Pauline Denyer Baker

Des RCA MAA MASF RMS HS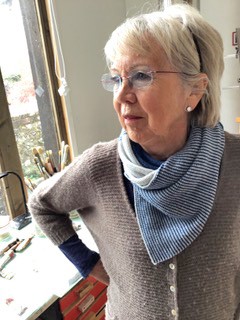 Pauline's work is in miniature collections world wide, and she has won several Awards for Portraits including at the Miniature Arts Society of Florida in 2012, a portrait of Dame Maggie Smith as the Duchess of Grantham in the UK TV series, Downton Abbey. For which she became an member of the prestigious Miniature Artists Of America.
Pauline has demonstrated the art of miniature painting at the Royal Miniature Society Exhibitions, held at the Mall Galleries in London, annually.
Her book Painting Miniatures can be downloaded on line from Amazon, and purchased as hard copy.
The following paintings are curently available and shipping is available worldwide. Please contact the Office to purchase.
Red Currants and Silvery
Gouache on Vellum. To be framed 4 X 5
Image size 3 x 2

£325 + shipping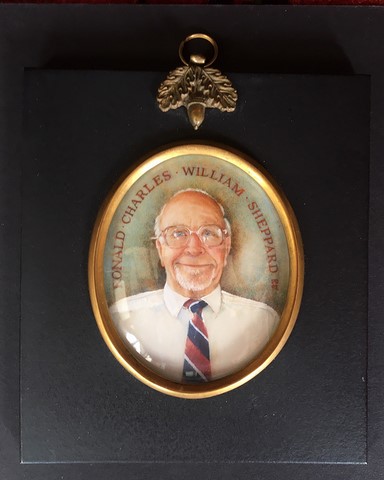 Current CV 2020
1959-1962 - Studied Fine Art and Design at Brighton College of Art
1962-1965 - Designer in Fashion for Mansfield London
1967-1970 - Teacher of Fashion Design, pattern cutting and making up, at Brighton College of Art, and West Sussex College of Design in Sussex
1970-1986 - Teacher in Adult Education, West and East Sussex, covering Fashion Design, Pattern Cutting and making up. Also Interior Design and Portraiture from Life
1986-2011 - Teacher in Pastel Portraiture from Life and Miniature Painting in watercolour to adults on Residential Courses at Denman College, Oxfordshire, and West Dean College, West Sussex and the Early Concourse. Became a member of the Society of Limners
1989-2007 - Miniature Portraits accepted and hung in the Royal Academy Summer Exhibitions,
1995 - Awarded the Silver Bowl, for Portraiture at the First World Exhibition of Miniaturists, Westminster Central Hall London.
1990-2014 - Accepted as member to the Hilliard Society, the Royal Miniature Society and the Miniature Arts Society of America. Commissioned by the Crowood Press to write a book on Painting Miniatures in 2012, which was published in November 2014.
2010 - Award for a Still Life in Miniature, at the World Exhibition of Miniatures in watercolour, Bric a Brac.