Miniature Art Books
The Practice of Painting in Enamel by Gillie Hoyte Byrom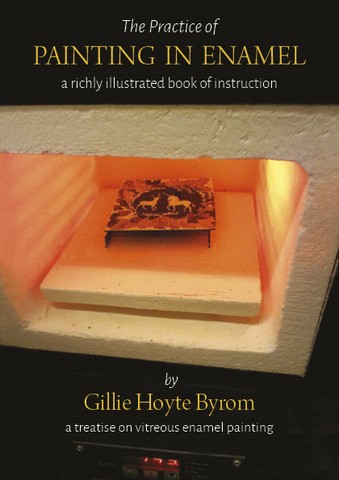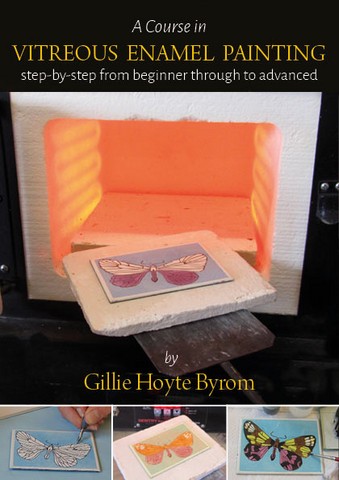 Vitreous enamel painting has been neglected over the years. Now, for the first time in it's 400 year history, there is a book on the subject. Gillie Hoyte Byrom who has over 35 years experience, has written her treatise - "The Practice of Painting in Enamel".
The Practice of Painting in Enamel by Gillie Hoyte Byrom - now available in hardback!

Richly illustrated, this is the only book devoted to onglaze vitreous enamel painting. Handsome but practical 152 page hardback - every page bursts with technique while a unique troubleshooting section gives solutions at every stage and level of expertise.

Gillie's life's work, skills and passion for this truly precious and rare art form is just as relevant a resource for the aspiring newcomer as for the advanced practitioner.

£45 (autographed copy in slip case £65)


"Gillie Hoyte Byrom is a virtuoso of painting in enamel and a teacher of exemplary clarity. This manual is a model of its kind, compelling and inspirational in its presentation of a lifetime's experience. It will be required reading both for the practical student and for anyone who wants to understand the mystery of this fascinating art." Richard Edgcumbe, V&A Museum
Gillie fully describes all the methods she was taught when she trained in Barcelona in 1990, besides giving comprehensive instruction in enamel painting techniques she has developed in creating miniatures to commission.
Gillie is interested in teaching and offers one to one tuition at her studio or online. She has also designed a distance learning course to teach enamel painting from beginner through intermediate to advanced level through ten exercises. In addition she has produced a set of video masterclasses at three levels of competence.
All are available electronically as this is the most economic way to show as many illustrations as possible and an easy way to reach people worldwide.

Please visit: www.enamelpainting.co.uk for further information and to order "The Practice of Painting in Enamel" direct from Gillie.
Painting Miniatures by Pauline Denyer Baker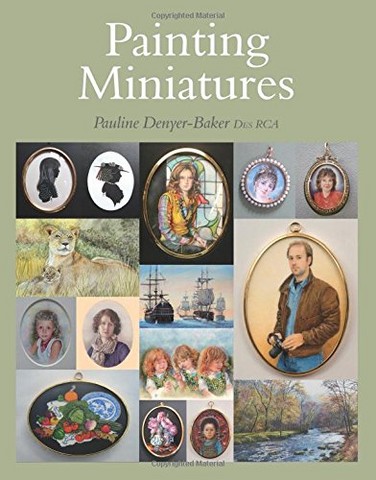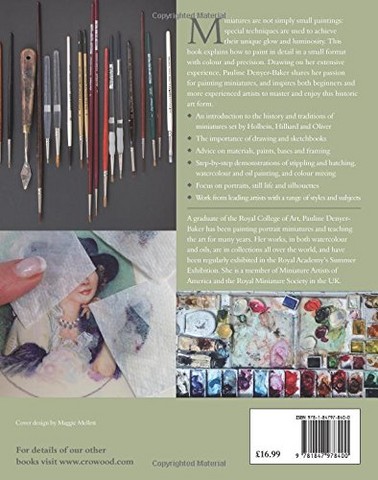 Miniatures are not simply small paintings: special techniques are used to achieve their unique glow and luminosity. This book explains how to paint in detail in a small format with colour and precision. It gives an introduction to the history and traditions of miniatures set by Holbein, Hilliard and Oliver. Advice is given on materials, paints, bases and framing and there are step-by-step demonstrations of stippling and hatching, watercolour and oil painting, and colour mixing. There is a focus also on portraits, still life and silhouettes and the book also includes historic examples and contemporary work by some of the leading miniature artists.

Drawing on her extensive experience, Pauline Denyer-Baker shares her passion for painting miniatures, and inspires both beginners and more experienced artists to master and enjoy this historic art form.
Pauline Denyer Baker (nee Sheppard) was born and educated in Sussex and studied Fine Art in Brighton. Her miniature work has been accepted and hung at the Royal Academy Summer Exhibition from 1989-2007. In 1995, at the first World Exhibition of Miniatures in London, she was awarded the Silver Bowl for the Best Portrait.
Now she is a member of several UK Miniature Societies, including the Hilliard Society, and in 2013 became a member of the Miniature Artists of America. Her work is in collections world wide, and has won several awards. This first book is a realised ambition, with comprehensive advice on miniature painting techniques, especially painting miniature portraits of children. It also contains notes on colour mixing, perspective, sketchbooks and the elements of portraiture to look for to get a true likeness.
The book is 174 pages, paperback, published by The Corwood Press Ltd on Nov 24th 2014.
This book is available on Amazon at £16.99 - please click here to order a copy.
The Techniques of Painting Miniatures by Sue Burton
Widely considered to be among the best books written on the subject, Hilliard Society co-founder Sue Burton looks at the work and techniques of twenty eight eminent miniaturists, including step-by-step demonstrations in a variety of subjects. Each painting is reproduced at actual size with close up details to demonstrate working methods and brush strokes. With advice on materials, surfaces and framing, together with a section on the history and early masters of miniature art, this comprehensive guide is invaluable to those seeking to develop their skills or learn more about fine art in miniature.
First published in 1995 and sometimes hard to find, limited copies are sometimes available to buy from the Society. To enquire please get in touch.
Modern Masters of Miniature Art in America by Wes Siegrist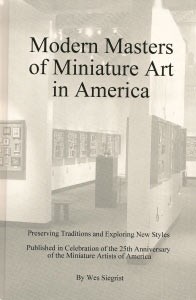 This book extensively covers the subject of miniature art tracing the history, etymology and societies from the earliest beginnings to the present day. Published in conjunction with the Miniature Artists of America (MAA) 25th Anniversary, the book also features the work of 53 of the Society's members from around the world, including some from the Hilliard Society. There are 214 colour photographs.

Hardback £42.18 plus shipping. E-book £18.72. This book is also available as a FREE download (PDF).

For order details please click here.

By the same author: 'Exquisite Miniatures' by Wes and Rachelle Siegrist & 'The World of Nature in Miniature' by Wes and Rachelle Siegrist.