new exhibitors information
WOULD YOU LIKE TO TRY PAINTING IN mINIATURE?
The Hilliard Society is committed to encouraging new artists into this intricate art form and we know it can sometimes be daunting to enter work in a new exhibition. We are therefore delighted to offer free online submissions for pre-selection from aspiring miniaturists who would like to take part in our annual International Exhibition of Miniature Art.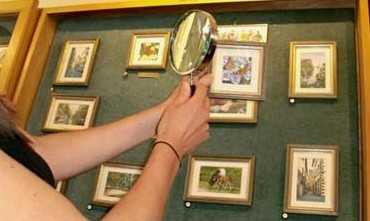 WHO CAN SUBMIT WORK ONLINE?
First time entrants from anywhere in the world are welcome to submit images of their work by email for pre-selection. If you have exhibited with us before, please just submit your work in the usual way.
WHEN SHOULD YOU SEND YOUR IMAGES?
Please send your images by email on 16th or 17th March 2024 (see below). Unfortunately late entries cannot be considered. This allows for the selection committee to make their decisions and for successful artists to be able to get work to the Society in time for the hand in date (especially if it is coming from overseas).
This is a free service and you will be notified by email on March 20th 2024.
WHAT HAPPENS AFTERWARDS?
If you have been successful you will be invited to send your work to the Exhibition in time for the hand in date, along with your entry form and fee, in the same way as other exhibitors. The quality of artwork juried into the Exhibition is very high so if you have been unsuccessful we will do our best to give you the reason to encourage you to try again another year.
WHAT DO YOU NEED TO KNOW?
A miniature painting can be worked on any media and in any medium - bearing in mind that a smooth surface is required to execute the miniature techniques of fine detail and brushwork. It should be of good composition and tonal balance when viewed from a distance and, by virtue of its detail and fine execution, should stand up to close inspection. Mounts should be accurately cut and frames of high quality.
Maximum sizes
- Rectangles 4.5 inches x 6 inches; Squares 4.5 inches; Circles 4.5 inches in diameter. Maximum area including frame, not to exceed 50 square inches. Sculptures maximum size is 10" in any dimension.
HOW TO SUBMIT YOUR IMAGES
Please submit a clear, large photograph of your framed work with a ruler alongside (as in the example shown) together with your name on MARCH 16TH or 17TH 2024. We can only accept entries for pre-selection submitted on these days.