Paul Eaton hs vprms mpsgs masf maa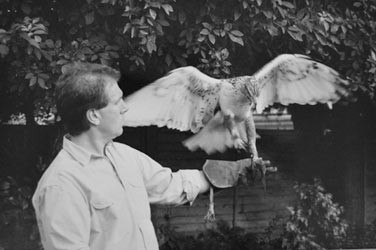 Paul Eaton was born in London in 1955 and soon moved to the countryside in the Surrey Hills. This is where his love of wildlife started, where he could study the likes of owls, birds of prey and other animals that frequented the countryside. Paul's family life was devastated by an accident which killed his father and his mother had no choice but to send him to boarding school to enable her to work.
At school he was fortunate enough to study wildlife in the Natural History Society set up by his biology teacher as he was inspired by Paul's enthusiasm. His practical application of making artifacts lead to him making pieces of jewellery to sell to his school friends to feed the owl that he kept at school.
Art and Technical drawing were his two favourite subjects which, when he left school at the age of 16 years, took him to work for a design engineer who taught him the techniques of working with non-ferrous metals, such as bronze and stainless steel. Whilst he was experimenting with these non ferrous metals a school friend's sister who was a fashion designer saw and commissioned some work which was sold in the famous London store known as Liberties. She also introduced him to a jeweller in Guildford, Surrey where he founded his skills in precious metals, such as silver and gold. Many jewellery designers came to the workshop as part of a DeBeers promotion and Paul was able to watch their skills and gain knowledge in fine jewellery. As Paul has a practical nature he started to make jewellery to sell on his own market stalls, which lead to his first workshop/shop just outside the village of Cranleigh.

It was at this stage of his life that he had an accident and badly broke his jaw and was hospitalized for ten days, where out of boredom he found a small segment of wax and carved his very first animal, the otter, which was later cast into bronze by an engineering company who showed interest in his skill and commissioned four other animals.
(Spray of Dolphins on Agate - solid bronze dolphins)
The skills learned from fine jewellery making enabled him to finish his sculpture with the most intricate detail and now Paul is a jeweller and a sculptor and has been commissioned from clients worldwide and organizations such as Young Environmentalist of the Year, large corporate groups such as P&O Shipping Company, National Bird of Prey Centre, with presentations being made to members of the Royal family, including Prince Phillip, Princess Anne and the late Princess Diana.
One of the latest commissioned sculpture was for his former Head Master who celebrated his 80th Birthday, the Old Boys Society asked Paul to carve an Otter as the school was known as Ottershaw Boys School, and this was presented at a luncheon attended by many who wished to honor the man who they believed to make their school life the best!
There are now approximately 500 sculptures in the collection which are available in his shop near Cranleigh, ranging in size from one inch to twenty inches, all being miniatures.

(Tawny Owl & Mouse - solid bronze)

White Gold & Diamond Collection (ring, pendant & diamond set 'Eatons' watch)
'Madagascar' (solid sterling silver ring tailed lemurs on solid bronze base)
EXHIBITIONS AND AWARDS
2009
RMS - Paul first entered his work into the Royal Miniature Society of Painters, Sculptors & Gravers & all five pieces were accepted.
2010
MASF – Paul first entered his work into Miniature Art Society of Florida & had all pieces accepted.
RMS - After successfully having 5 pieces accepted for two years running he was made an Associate member (ARMS).
2011
MASF - Paul started the year in Florida having had his work successfully accepted for 2 years running & won 1st Prize 'Sculpture & Scrimshaw Award' for his 'Family of Warthogs'.
Hilliard Society - Paul exhibited at the Hilliard Society Exhibition in Wells, Somerset in May for the first time.
RMS – Paul had all six pieces of sculpture accepted for the Royal Miniature Society of Painters, Sculptors & Gravers Exhibition in October 2011 at The Mall Gallery, London.
MPSGS - This year is the first year Paul has submitted sculpture to the Miniature Painters, Gravers & Sculptors Society of Washington DC, of which all 3 were accepted & was awarded 'Best New Artist' with his bronze 'African Elephant'.
2012
MASF - Paul entered another 5 sculptures for Miniature Art Society of Florida, 2012 show. He won 1st Prize 'Sculpture & Scrimshaw Award' for his Northern Bobcat.
Snow Goose Gallery – May 2012 Paul exhibited at the Snow Goose Gallery, Pennsylvania, USA.
Hilliard Society 30th Anniversary Exhibition – June 2012 Paul exhibited a 'Special Display' of his sculpture, as well as entering the show. Paul was awarded 'HS' after his name.
World Federation Miniaturists – September 2012 Paul entered three pieces of sculpture into the 5th Worldwide Federation of Fine Arts in Miniature, Russia and won 'Best Sculpture Award'.
RMS – October 2012 Paul submitted six sculptures and has been awarded a Full Member of the Society and can now carry 'RMS' after his name. Paul was also asked and elected to join the RMS council.
MPSGS – November 2012 – Paul submitted three sculptures and won 'First Place Sculpture Award' for his Family of Spoonbills.
2013
MASF – January 2013 Paul entered 5 sculptures for Miniature Art Society of Florida, 2013 show. He won 1st Prize 'Sculpture & Scrimshaw Award' for his Spray of Dolphins 'Splash' and can also carry MASF after his name.
Miniature Artists of America (MAA) – January 2013 The Society recognizes the best practitioners of miniature art being exhibited in America and membership is by invitation only. Paul has been nominated and unanimously voted to become a member of the society which entitles him to carry MAA after his name.
MPSGS – February 2013 Paul has been invited to be a Full Member of the Society and can now carry 'MPSGS' after his name.
RMS – October 2013 Paul has been elected Vice President for sculptures within the Royal Miniature Society, which will allow him to carry the initials 'VPRMS'.
MPSGS – November 2013 Paul submitted 3 sculptures and won 'Second Place Sculpture Award' for his 'I was here first' (Eastern Painted Turtles).
Copyright in all images and text remains the property of the artist and cannot be used without written permission.

BACK TO MEMBERS GALLERY