Elizabeth A Brown M.A.A., H.S., S.M., M.A.S.F., M.P.S.G.S., C.P.A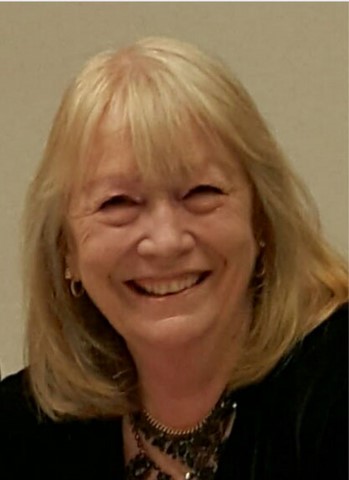 Elizabeth was born in Warwickshire and lived amongst the cottages and local countryside which she still loves to paint. In her early 20's she began her travels overseas and lived in Spain, Iran and the UAE, where she began to paint pictures depicting her new environment. Her work was exhibited in various galleries and was selected by commercial enterprises for their calendars and greetings cards. The Ramada and Hilton Hotels' chose to use her local scenes as their decor. Whilst in Abu Dhabi and latterly Dubai she taught every medium to all nationalities and became very involved with the Dubai Art Centre, organizing their yearly exhibitions and also arranging for professional artists to visit from the UK to teach and demonstrate to students.
After being repatriated back to the UK, Elizabeth began working for the Arts Council in Leicestershire, followed by a move to Lincoln. After spending the next 15 years renovating a Methodist Chapel and School House, she and her husband decided to relocate yet again and move to Wales where they still live.
In 1992 Elizabeth successfully ventured into the world of miniatures, where she has won 53 worldwide awards and has exhibited on a global basis. Her work now forms part of many private collections including famous actors, singers, Embassies and various Royal households in the Middle and Far East, including the Sultan of Brunei. Elizabeth's work has also been purchased by the Fine Arts Museum in Colorado, USA as part of their permanent collection.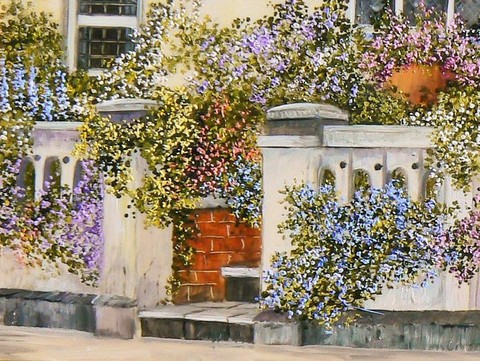 Colourful Wall in Lincoln
Oil 3" x 4"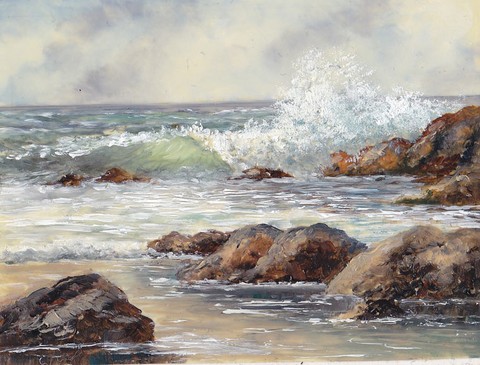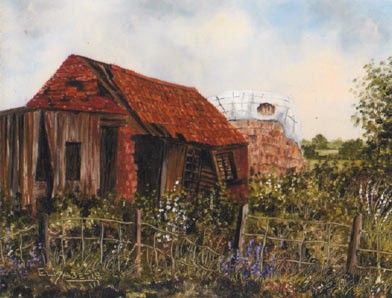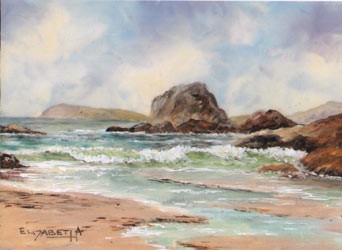 Some Exhibitions and Awards:

1st Prize - Georgia Miniature Art Society
2nd Prize - Miniature Society of Washington 1996, 1997
Rose Bowl - Society of Miniaturists
People's Choice Award - British Columbia
1st Prize - Miniature Society of Florida (Landscape) 2014, 2018
Art in Public Places - Colorado Museum
Hilliard Society - Award for Excellence
(Tide Pools Oil 3" x 4")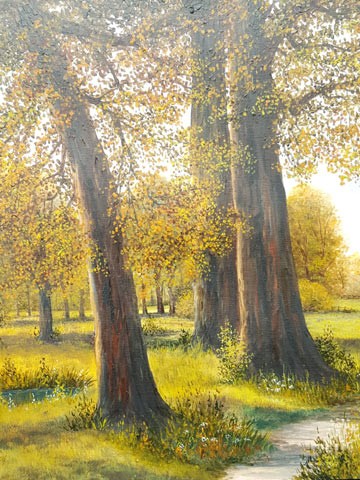 Beginning of Autumn
Oil 4" x 3"
Copyright in all images and text is the property of the artist and they may not be reproduced without written permission.