Mini Masters




An Art Education Project for the Hilliard Society
The 2017 art education project was a huge success. Two age groups were invited to paint a portrait based on Holbein's famous work of Anne of Cleves (with the kind permission of Victoria and Albert Publications) and their work was exhibited at the Society's Annual Exhibition at Wells Town Hall.
Following on from this, miniature artist Jenny Brooks HS RMS is once again kindly organising a new Mini Masters Project for the 2018 Hilliard Society Exhibition. The aim is to encourage children and young people to have a go at miniature painting. ​If you know of a young person who might enjoy the challenge, please get in touch with Jenny for more information - phone 0117 377 9558 or email: fejennybrooks@blueyonder.co.uk.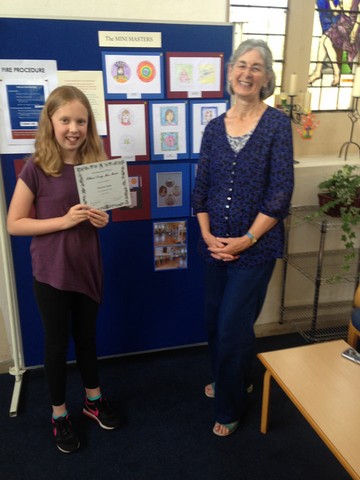 The two age groups are 7 to 10 years and 11 to 18 years.

Subjects - for the 7 to 10 years are:
A. My Pet animal, using an imaginary image if necessary and
B. Where my Pet sleeps

Subjects - for the 11 to 18 years are:
A. A View from my Window and
B. The Exterior of my Home and Garden.

Complete both A and B on 1 sheet of good quality A4 paper with the paper placed either landscape or portrait. You can choose to work with either graphite, watercolour paints or coloured pencils.
All images are to be contained within the following exterior sizes:
For square or round shapes 11.5cms x 11.5cms (4½"x 4½")
For rectangle or oval shapes 11.5cms x 15cms (4½"x 6")

Right - One of last years successful young artists, Charlotte, receiving her Certificate for Exceptional Art Work for the 2017 'Anne of Cleves' project from Jenny Brooks.

DETAIL IS IMPORTANT, ALSO WORKING FROM YOUR OWN IMAGES
Please note that at this time entries can only be accepted from the UK and a charge is made for return postage. All artwork will be on show during the Hilliard Society exhibition held in Wells Town Hall, Wells Somerset in June 2018 and Certificates will be awarded for each entry completing the project. Your personal details will only be used for the purpose of this educational project and will not be passed to any third party.
​Entries to arrive by 23rd April 2018.
For more information and entry forms please contact:
Jenny Brooks HS RMS
0117 377 9558
Email: fejennybrooks@blueyonder.co.uk